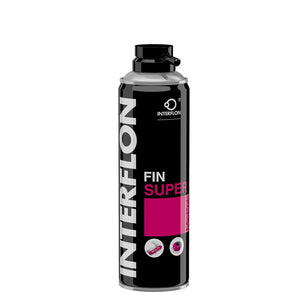 Interflon Fin Super, 300ml Aerosol
Interflon
Regular price $45.00 Sale
High performance penetrating dry-film lubricant fortified with MicPol® technology. Designed for a multitude of general lubrication applications on almost any moving part over a wide range of environmental conditions and when more than just a lubricant is needed. Goes on wet, cleanses, displaces moisture, breaks down deposits and penetrates even into the most inaccessible areas. Loosens seized, rusted and frozen parts, silences friction-induced squeals and squeaks and prevents dirt accumulation and the formation of rust and other types of corrosion. Sets up a clean, dry lubrication film that virtually eliminates wear on moving parts. Holds up to high pressures, resists water wash-off and will not attract dirt, dust and other abrasives.
---
Distinctive Properties and Key Advantages
Superior lubricity
Outstanding penetrating quality
Displaces moisture and loosens rusted and frozen parts
Inhibits rust and provides long lasting anti-corrosion protection
Doesn't stain and leaves no residue
Product Application Areas
The seemingly perfect and very cost effective lubricant for both preventative and corrective maintenance in all applications. For long life Mechanical and Drive Chain lubrication and the lubrication of Cables, Conveyors, Air power tools, Joints, Pivots, Cams, Belts, Table Saws, Nylon Slide Bearings, Bowden Cables, Push Pull Cables, Locks, Steel Cables, Window Guides, Door Rubbers, Precision Tools, Electric Tools, Air Tools, Lifts, Guns, Fishing Equipment, Pulleys, Threaded Parts, Bolts, Rollers, Taps, Frozen Valves, Locks, Hinges, Latches, and many other moving parts.   At the same time, this product protects electrical contacts against corrosion. Excellent replacement for lubricants with MoS2  or graphite.
MPN: 9560