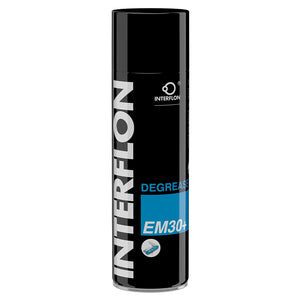 Interflon EM30+ Degreaser, 500ml Aerosol
Interflon
Regular price $49.00 Sale
Highly versatile degreaser for use in food processing areas. Excellent for tough cleaning jobs. Gently breaks down the composition of heavy greases, oils, grime, dirt, graphite and carbon residue. Removes tar, paint, silicone, glues, hotmelt, resins, polymers, styrenes, gasket sealant, adhesives, waxes, bitumen, dyes, inks, paints, sugars, syrups, labels and graffiti too. Very effective cold degreaser on engines, chains, gearwheels, conveyors, bearings, slides and many other machine parts, as well as on hard stone, tiles, floors, walls etc.
Meets and exceeds all regulatory guidelines of the FDA; NSF Class K1/K3. Excellent replacement for hazardous cleaning systems. Can be used safely plant wide to meet the demands of modern clean room cleaning and degreasing.
---
Distinctive Properties and Key Advantages
Industrial strength yet food grade approved
Very effective with slow evaporation
Can be used for spraying (Aerosol) and parts washers
Leaves no residue
Excellent replacement for acetone
Non hazardous
Product Application Areas
To remove substances not removable by using acidic or alkaline cleaning agents and for removing adhesive or glue from food packaging materials in and around food processing areas.
MPN: 9566