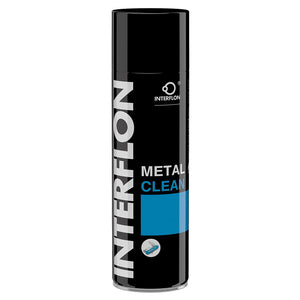 Interflon Metal Clean, 500ml Aerosol
Interflon
Regular price $35.00 Sale
Cleans and degreases metal parts, stainless steel, stone, aluminum etc. in most cleaning situations. Causes petroleum derivatives, oils, greases, fuels, lubricants, fats, tar, resins, silicones, proteins, sugars, asbestos and other organic and complex soils to repel from your chains, machine parts and other cleaning surfaces and to be rinsed away. 
Invaluable as a replacement for Acetone, White Spirit, Trichloroethylene, Toluene and other hazardous cleaning systems which threaten the environment and health of users and bystanders. Meets and exceeds all regulatory guidelines of the FDA; NSF Class K1,K3.
---
Distinctive Properties and Key Advantages
Industrial degreaser for use on the job and in the workshop
Very effective with rapid evaporation
Stream of high pressure let you

 

blow dirt away

 

very easily
Leaves

 

no residue
Readily Biodegradable - 98% OECD 302 B (Modified) 
Product Application Areas
Preferred choice of many of your peers for their day-to-day cleaning and degreasing of Bearings, Gear Wheels, Locks, Cylinders, Chains, Slides, Hinges, Axles, Spindles, Conveyor Belts, Brake Systems etc. 
MPN: 9563